| | |
| --- | --- |
| | Free Arkansas Living Will Forms | Advance Health Care Directive |
The Arkansas declaration of living will document is also known as an Advance Health Care Directive. This document is created with respects to the US statutes §§36-3201 to 36-3297 and requires at least two witnesses or a notary and will become invalid should the patient be found to be pregnant. The document is a formal declaration by the patient who is usually referred to as the `Principal`, to legally choose the medical treatment they will receive should they become incapacitated to a degree that disables them from doing so at that time.
Arkansas durable medical power of attorney for health care form is a legally binding document that enables a patient to select another person (Or `Agent`) to become a facilitator of the patient`s health care treatment in the event of them becoming no longer able to make these decisions themselves through illness, for example if they are in a coma or unconscious. The document does not require the presence of witnesses or a notary for completion The document is in accordance with the US statute § 20-13- 104. If the patient is pregnant then a durable medical power of attorney for health care form is not valid.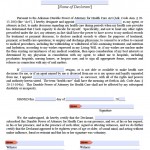 The durable medical power of attorney for health care document is created in accordance with § 20-6-103(c), § 20-17-202, and requires at least two witnesses or a notary. It enables a patient, to be allowed to select another person, an agent, to become a facilitator of the patient`s health care treatment when they are no longer able […]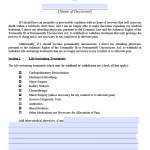 The Arkansas declaration of living will form, or 'Advance Directive', is created in accordance with § 20-6-103(c), § 20-17-202, and requires at least two witnesses or a notary. The form declares that the principal may legally choose the medical treatment they will receive if they ever become incapacitated to such a severity that they can not […]