| | |
| --- | --- |
| | Free California Living Will Forms | Advance Health Care Directive |
The California Advanced Health Care Directive will provide a Principal with the ability to choose the type of health care they will receive should a medical situation arise that means they are no longer able to advise on these decisions. These situations will include unconsciousness or coma and extend as far as to ending of the principals life. This document is is in accordance to the US statutes §§4700 to 4743 and requires at least two witnesses or a notary. The will is invalid in the event of the patient being found to be pregnant.
The California Power Of Attorney For Health Care form is provided by the state of California to provide a patient with the option to select another person known as an`Agent` to decide on the patient`s health care treatment should they no longer able to  themselves This situation may arise due to them being in a coma or being unconscious or suffering from brain damage. For completion of the document will require two witnesses, one of which may be a notary. The document obeys the US statute §§ 4600 – 4806.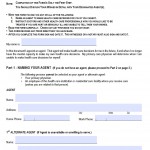 The California Power Of Attorney For Health Care form is relevant to residents of the state of California. This document allows people to chose an `Agent` or agents who can represent them regarding their health care needs should they be unable through illness to represent them selves.  In the event that the patient would want […]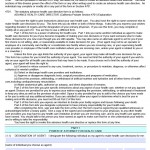 The California Advanced Health Care Directive will is provided to give a patient a chance to choose the type of health care and medical treatment they will receive should they become no longer able to  decide due to unconsciousness or coma. The details the principal may include in the Advanced Health Care Directive may describe ending […]