| | |
| --- | --- |
| | Free Colorado Living Will Forms | Advance Health Care Directive |
The Colorado Advanced Directive, is drawn up in accordance with Statutes §§15-18-101 to 15-18-113. The document allows  individuals, often referred to as a Principal, to express their end of life and medical health decisions in case they are at any point they are unable to. The form requires no witnesses. The principal will not be able to use this document as their will if at the time they are incapacitated they are found to be pregnant.
The Colorado medical power of attorney document, is created accordance with the US Statutes § 15- 14-503 to -509 and gives the patient the right to an appointed authority, the Agent`, in the event of an illness which causes them to become incapacitated. This authority also includes the decisions regarding end of life treatment.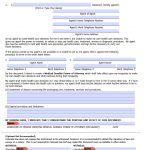 The Colorado medical power of attorney document provides the facility for patients to appoint a legal independent authority sometimes referred to as the Agent. In the event of an illness which causes the patient to become incapacitated the agent is able to make the decisions that relate to the patient's health care treatment. This authority also […]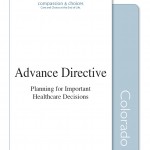 The Colorado Advanced Directive is a form that provides a person with the opportunity to instruct their medical practitioners as to their wishes regarding their health care should they reach a state in which they are no longer able to communicate. This document requires attestation by two (2) witnesses or a notary public in accordance […]