| | |
| --- | --- |
| | Free Delaware Living Will Forms | Advance Health Care Directive |
The Delaware Advance Health Care Directive form, or Living Will is created with respects to Statutes §§2501 to 2518 which effectively allows a person to legally dictate to medical staff the sort of care they will receive if they become medically incapacitated so that they are now longer or able. This could include the types of life support they receive, the specific methods of medical practices they will be treated with and even the procedures to follow in the impending event of their death. A Delaware living will form requires two witness.
The Delaware Power Of Attorney For Health Care form is a document which legally allows a Principal to appoint an `Agent` who can act as the power of attorney with regards to the patient`s health care in case they become so ill that they are unable to make vital decisions themselves. The document requires two witnesses, one witness then they may not be a relative or health care provider of the principal. The document is in accordance with the US statutes § 2501 – 2518.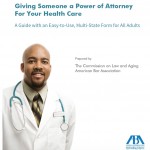 The Delaware Power Of Attorney For Health Care form is a document which legally allows a Principal to appoint an `Agent` who can act as the power of attorney with regards to the patient`s health care in case they become so ill that they are unable to make vital decisions themselves. The document requires two witnesses, […]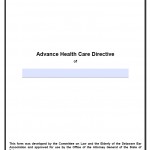 The Delaware Advance Health Care Directive form, or Living Will adheres to Statutes §§2501 to 2518 and effectively allows a patient to write their wishes regarding the medical treatment they receive if  they are now no longer able to through illness for example psychological impairment or a coma. Treatments may include the types of life support they receive, […]