| | |
| --- | --- |
| | Free Florida Living Will Forms | Advance Health Care Directive |
The Florida Advance Health Care Directive provides the means for a patient, sometimes called the `Principal`, to choose what medical treatment they receive if they are so ill that they can no longer convey their wishes to their medical practitioners. This document is created with respects to the US statutes §§765.301 to 765.310. The Florida advanced health care directive requires at least two witnesses and will become invalid should the patient be found to be pregnant. The document is a formal declaration and is legally binding in the state of Florida.
Florida durable medical power of attorney for health care form is a legally binding document that lets the principal select another person called the `Agent` to become a facilitator of the patient`s health care treatment. This facilitation becomes effective should the principal become no longer able to make these decisions themselves. The document applies with reference to the US statutes § 765.101 – .404 and requires two witnesses. If the patient is pregnant  the document holds no legal value.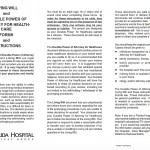 The Florida durable medical power of attorney is a document that allows another person to handle the health care affairs of a patient in the chance the individual is not able to speak for themselves. This is most common due to dementia, Alzheimer's disease, stroke, or any type of mental illness. Laws – Chapter 765 (Health […]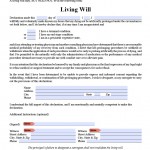 The Florida living will is How to Write Living Will Principal`s details. Date. Principal`s name. Conditon Initial to designate conditions where dying is not to be prolonged. Terminal condition. End stage condition. Persistent vegetative state. Agent Enter details of agent. Name. Address. ZIP code. Telephone number. Additional Istructions Explain the preferences of […]