| | |
| --- | --- |
| | Free Indiana Living Will Forms | Advance Health Care Directive |
Indiana Advance Health Care Directive is a document drawn up with reference to US Statutes §§16-36-4-1 to 16-36-4-21. An Indiana living will requires two witnesses and allows a patient, who is often called the `Principal`, to choose the medical treatment should they become too ill to do so themselves. The document is not legally binding should the principal become pregnant.
Indiana Power Of Attorney document is to legally allow an appointed person, the `Agent`, to make health care decisions for the principal for times when the principal is incapacitated to such an extent that this is no longer possible to do themselves. It applies in accordance with US statutes § 30-5-1-1 to 30-5-5-19. and also offers the option of limiting the types of powers the agent is authorized to carry out.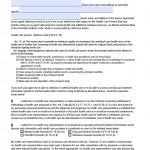 Indiana Power Of Attorney gives authority to a named person, called the `Agent` via the principal over health care decisions for the principal. This can apply when the principal is so ill that they are no longer able to make these decisions themselves. The document is in accordance with § 16-36-4-8(b)(5), and § 16-36-1-7. The option […]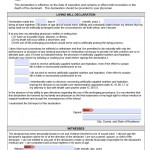 Indiana Advance Health Care Directive is a document, drawn up with reference to § 16-36-4-8(b)(5), § 16-36-1-7. An Indiana living will requires two witnesses and allows a patient, who is often called the `Principal`, to choose the medical treatment should they become too ill to do so themselves. The document is not legally binding should the […]