| | |
| --- | --- |
| | Free Maryland Living Will Forms | Advance Health Care Directive |
The Maryland Advanced Health Care Directive will provide a `Principal` with the ability to choose the type of health care they receive should a medical situation arise where they are no longer able to advise on these decisions through illness, situations that include unconsciousness or coma and extend as far as to ending of the principals life. This document is created in accordance to the US statutes §§5-601 to 5-618 and requires two witnesses. The will is invalid in the event of the patient being found to be pregnant.
The Maryland Power Of Attorney For Health Care form is legally binding in the state of Maryland to let a patient choose another person, the`Agent` to decide on their health care treatment should they no longer be able to themselves. This situation may be for example due to them being in a coma or unconscious. For completion the document requires two witnesses, one of which may be a notary. This document obeys the US statute §5-601 to –618.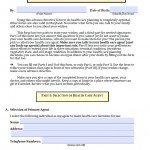 The Maryland Power Of Attorney For Health Care form is a legally binding form that lets a patient choose an agent to decide on the health care treatment they will receive should they no longer be able to make those decisions. This may be due to serious illness, for example, a coma or unconsciousness. The Power […]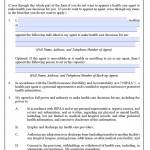 The Maryland Advanced Health Care Directive will provide the principal with the choice of specific health care treatment should a medical situation arise that means they are no longer able to themselves, this power extends as far as decisions regarding the ending of life. This document is created in accordance with §§5-601 to 5-618 and […]