| | |
| --- | --- |
| | Free Missouri Living Will Forms | Advance Health Care Directive |
The Missouri Advance Health Care Directive form, or Living Will is created with respects to Statutes §§ 459.015 to 459.055. This allows a person, usually known as a `Principal`, to legally dictate to medical practitioners their specific health  care wishes  in case they become medically incapacitated so that they are now longer or able. Possibilities include the types of life support they receive or even the procedures to follow in the impending event of their death.
The Missouri Power Of Attorney For Health Care form is a document which legally allows a principal to appoint an `Agent`. This agent can then act as the power of attorney with regards to the principal`s medical health care in the event of them becoming unable to make these decisions themselves because of illness. The document requires 2 witnesses and a notary. The document is in accordance with the US statutes §404.800 – .872.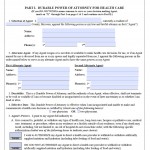 The Missouri durable medical power of attorney is created to allow a Principal to appoint an `Agent`, a person who can act as the power of attorney with regards to the patient`s health care in case they become so ill and are unable to make such decisions themselves. This document requires attestation by two (2) […]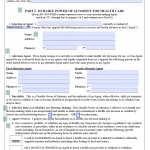 The Missouri Advance Health Care Directive form, or Living Will gives the patient the power to advise medical staff as to the sort of care they will receive if they become medically incapacitated. This could include the specific methods of medical practice they will receive or the procedures which will follow their death. This document requires attestation […]