| | |
| --- | --- |
| | Free North Carolina Living Will Forms | Advance Health Care Directive |
The North Carolina Living Will, also called Health Care Instructions form is created in accordance with US Statutes §§90-320 to 90-322 allowing patients, also known as the principal, to legally choose the medical health care treatment they want to receive should they become so ill that they are unable to make these choices. This living will document requires two witnesses to make it legally acceptable. The document is invalid if the principal is found to be pregnant.
The North Carolina Power Of Attorney For Health Care Decisions form legally permits an appointed person, who can be referred to as an `Agent, to make medical welfare decisions on the principal`s behalf should they become  unable to do so themselves through serious illness such as a coma or mental impairment. The document requires two witnesses and a notary. The document is in accordance with the US Statutes § 32A- 15 to -27.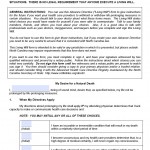 The North Carolina living will, or 'Advance Directive' form is designed to allow patients to legally decide upon the medical health care treatment they can receive should they become so ill that they are unable to make these choices. These illnesses may be a coma or permanent unconsciousness for example. This document requires attestation by […]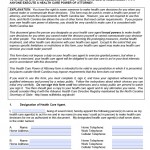 The North Carolina Medical Power Of Attorney legally permits an appointed person, the agent, to make medical health care choices on behalf of the principal should they become unable to do so themselves through illnesses such as a coma or mental impairment. It requires two witnesses and a notary and is drawn up in accordance […]