| | |
| --- | --- |
| | Free Nebraska Living Will Forms | Advance Health Care Directive |
The Nebraska Living Will And Durable Power Of Attorney For Health Care will provide the patient (The `Principal`) with a choice over the particular health care made available to them at such a time when they are unable to make these decisions themselves through serious illness such as a coma or mental injury. These situations extend to ending of life situations. This will is created in accordance to the US statutes §§20-401 to 20-416 . The living will is invalid in the event of the patient being found to be pregnant and requires at least 2 witnesses or the recognition of a notary.
The Nebraska Durable Power Of Attorney For Health Care Will Form is provided by the state of Nebraska and lets the principal choose another person, also known as the `Agent`, to decide what  health care provision the principal will receive should they become incapacitated. The document is legally binding according to US statutes § 30-3401 to -3432. For completion the document will require 2 witnesses and a notary before it is legal.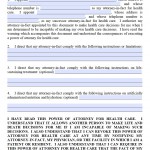 The Nebraska medical durable power of attorney form is a document that is provided by the state of Nebraska to let the principal choose an `Agent` or `Power Of Attorney`, to decide on the care the principal gets should they become incapacitated through illness. It is legally binding according to US statutes § 30-3401 to […]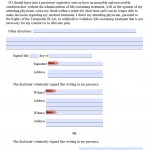 The Nebraska living will declaration  gives a patient an opportunity to decide on the particular health care made available when they are unable to make these decisions themselves. These situations include serious illness and extend to ending of life situations. The form requires at least 2 witnesses or a notary. This Nebraska living will declaration […]