| | |
| --- | --- |
| | Free Ohio Living Will Forms | Advance Health Care Directive |
The Ohio Advance Health Care Directive provides the means for a patient, sometimes called the `Principal`, to choose what medical treatment they receive. This document is created with respect to US statutes §§2133.01 to 2133.15, it is a formal declaration which is legally binding in the state of Ohio.. In the event of a principal being unable to convey their wishes to the health care professionals the health care directive can be used to express their medical health care decisions.  The Ohio advanced health care directive requires a notary or two witnesses present and will become invalid when the principal becomes pregnant.
The Ohio durable medical power of attorney for health care form is a legally binding document that lets the principal select another person called the `Agent` to become a facilitator of the patient`s health care treatment. This facilitation becomes effective should the principal become no longer able to make these decisions themselves. The document applies with reference to the US statutes § 1337.11 to .17 and requires the signatures of a notary or two witnesses. If the patient is pregnant  the document holds no legal value.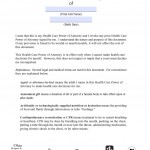 The Ohio medical power of attorney for health care legally binds the principal and another person appointed by the principal, called the `Agent`, to allow the power over their health care treatment to be passed on to the agent under certain circumstances. This will happen should the principal become no longer able to make these decisions […]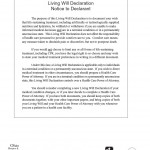 The Ohio Living Will Declaration provides the principal with the means to choose what type of medical treatment they receive in the event of a principal being unable to convey their wishes to the health care professionals. This document is created with respect to US statutes §§2133.01 to 2133.15, it is a formal declaration which is legally binding […]