| | |
| --- | --- |
| | Free Oklahoma Living Will Forms | Advance Health Care Directive |
The Oklahoma Advance Health Care Directive form, or Living Will is created with respects to Statutes §§3101.1 to 3102A to allow a person to legally dictate to medical staff the sort of care they will receive if they become incapacitated so that they are no longer able. For example it includes choices such as receiving life sustaining treatments and the specific methods of medical practices they will be treated with. An Oklahoma living will form requires two witness and is invalid when the principal is pregnant.
The Oklahoma Power Of Attorney For Health Care form is a document which legally allows a principal to appoint an `Agent`. The agent then acts as a power of attorney with regards to the patient`s health care in case they become so ill that they are unable to make decisions themselves. The principal can choose when to allow this power of attorney to be effective and they can salso stipulate personal conditions to which the agent must adhere. It requires two witnesses and is made in accordance with the US statutes § 3101.1 -.16.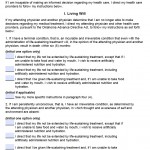 The Oklahoma Advance Health Care Directive form, or Living Will is created with respects to Statutes §§3101.1 to 3102A to allow a person to legally dictate to medical staff the sort of care they will receive in the event they are no longer able. This is at such a time that illness has caused them to be […]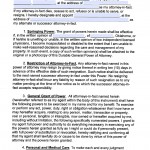 The Oklahoma Medical Power Of Attorney form is created so a principal can legally allow an `Agent`, who they appoint, to become the power of attorney in respect to their health care. The principal will also be asked to select alternative agents in case the primary choice becomes unable to fulfill this role. The power of […]