| | |
| --- | --- |
| | Free Washington Living Will Forms | Advance Health Care Directive |
The Free Washington Advance Health Care Directive is a document that respects the US Statutes §§70.122.010 to 70.122.920 and is legally binding requiring two witnesses. It provides a means for the patient (often known as a principal) to decide on their specific medical treatment should they become too ill, this can extend to life ending decisions. The document can contain any extra details of the principal`s preferences and instructions, it becomes invalid if the principal is found to be pregnant or if the principal chooses to cancel the authority of the document at any specific time.
The Free Washington Island Power Of Attorney gives the principal the ability to formally name an `Agent` to make health care decisions for them. This is in case they should they fall ill and become incapacitated to a point that are no longer able themselves, this can be for example due to a coma or permanent brain damage. It applies in accordance with US statutes §11.94.010 to .901. The principal may limit the powers of the agent as well as adding other medical health care preferences which are personal to them.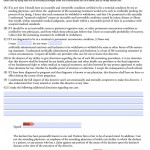 The Washington living will, 'advance directive is a document that respects the US Statutes §§70.122.010 to 70.122.920 and is legally binding requiring two witnesses or notarization. It provides the patient with the ability to decide on their specific medical treatment should they become too ill, this can extend to life-ending decisions. This will include things […]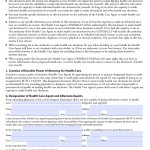 The Washington medical power of attorney form gives the principal the option to formally choose someone who is to be an `Agent` to make health care decisions for them. The principal may limit the powers of the agent as well as adding other medical health care preferences which are personal to them. This power of attorney is in […]