| | |
| --- | --- |
| | Free West Virginia Living Will Forms | Advance Health Care Directive |
The Free West Virginia Advance Health Care Directive form, or Living Will is created with respects to Statutes §§16-30-1 to 16-30-25 to allow a person to legally dictate to medical staff the sort of care they will receive if they become incapacitated so that they are no longer able to, choices such as receiving life sustaining treatments and the specific types of relief from pain. A West Virginia living will form requires two witness and is invalid when the principal is pregnant.
The Free West Virginia Power Of Attorney For Health Care form is a document which legally refers the patients medical health care decisions to a second party known as the `Agent`. The agent then acts as a power of attorney in case they become so ill that they are unable to make decisions themselves. The principal can choose when to allow this power of attorney to be effective and they can impose any conditions to which the agent must adhere. It requires two witnesses and is made in accordance with the US statutes §16-30-1 to -25.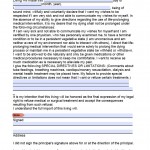 The West Virginia living will, or 'advance directive' is created with respect to §§16-30-1 to 16-30-25,  giving a person the right to legally dictate to medical staff the sort of care they will receive if they become ill so that they are no longer able to do this personally. These choices may be ones such […]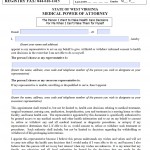 The West Virginia medical power of attorney is a document that legally refers the patient's medical health care decisions to a second party known as the `Agent`. The power of attorney can be total or can be limited to specific details that the principal may choose. The agent then acts as a power of attorney in […]