| | |
| --- | --- |
| | Free South Dakota Living Will Forms | Advance Health Care Directive |
The South Dakota Living Will offers the patient (Also called a `Principal`) a choice regarding their health care when they are no longer able to advise on these decisions. These situations extend to ending of the principals life if the situation should arise. In accordance to the US statutes §§ 34-12D-1 to 34-12D-22 the will is a legally binding document. It is invalid in the event of the patient being found to be pregnant and requires either two witnesses or a notary and one witness. If the principal wishes they can add any relevant personal stipulations to be applied to the health care they receive.
The South Dakota Power Of Attorney For Health Care Form is provided by the state of South Dakota offering the option to select another person (Sometimes called an `Agent`) who then takes power over the health care to be provided if the principal is no longer able to  themselves, like if they are in a coma or brain damaged. The document is legally binding according to US statutes §59-7-1 to -9 and needs two witnesses and a notary. The principal has the right to revoke this power of attorney.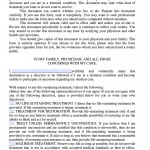 The South Dakota Living Will Declaration gives the principal choices in the event of them becoming incapacitated regarding their health care. This can include being in a coma, permanently unconscious or ending of life decisions and complies with the US statutes §§ 34-12D-1 to 34-12D-22 the will is a legally binding document. It requires either two witnesses […]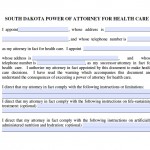 The South Dakota Power Of Attorney Form is provided by the state of South Dakota offering the principal the option to give authority over their medical health care to an agent. If the appointed agent becomes unavailable then alternative agents may be proposed. The power of attorney form is drawn up in according with §59-7-1 to […]