| | |
| --- | --- |
| | Free Wyoming Living Will Forms | Advance Health Care Directive |
The Wyoming Living Will, also called a Health Care Directive Form is representative of US statutes §§35-22-201 to 35-22-416. It is created to allow a patient, also referred to as a principal, to legally choose the medical treatment they get when unable to make these choices at that particular time. This living will document requires two witnesses to sign it to make it legally binding and is invalid if the principal is found to be pregnant.
The Wyoming Power Of Attorney For Health Care Decisions form legally permits an appointed person, who is usually referred to as an `Agent, to make medical welfare decisions regarding a patient and on their behalf should the patient become incoherent and unable to do so because of serious illness. The document requires signatures from two witnesses or an oral confirmation in the presence of two witnesses. The document is in accordance with the US Statutes§35-22- 401 to -416.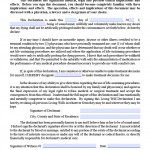 The Wyoming living will is a document drawn up with reference to US Statutes §§35-22-201 to 35-22-416. An Indiana living will requires two witnesses and allows a patient, who is often called the `Principal`, to choose the medical treatment should they become too ill to do so themselves. The document is not legally binding should the […]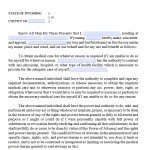 The Wyoming medical power of attorney form legally allows an appointed person, the `Agent`, to make health care decisions for the principal for times when the principal is incapacitated to such an extent that this is no longer possible to do themselves. It applies in accordance with US statutes §35-22- 401 to -416. and also offers the […]